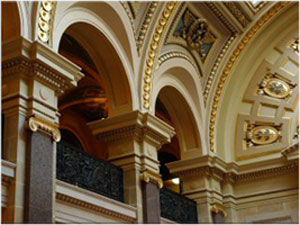 Last week, UW officials learned that the Department of Administration was advising state agencies, including the University of Wisconsin System, to prepare for a $174.3 million budget lapse — the return of money previously allocated in the 2011-13 state budget. The lapse would require the university to return at least $65.8 million to the state over the next two years, approximately 38 percent of the total lapse. UW System normally accounts for about 7 percent of the total state budget.
The DOA memo also indicated that the lapse could grow to $300 million if revenue estimates change. If that happens, the lapse to UW System could go as high as $113.3 million, almost half the $250 million cut already passed as part of the 2011-13 budget. According to a memo written by Vice Chancellor of Administration Darrell Bazzell and Provost Paul DeLuca, UW-Madison's estimated share of the total lapse to UW System ranges from $24.6 million to $42.6 million.
Todd Finkelmeyer of The Capital Times writes that state budget lapses are not new, but making UW System absorb so much of the total is unusual. He also notes that the university fared much better under former Governor Jim Doyle, taking 8.7 percent of the total lapse in 2009-11 and 9.9 percent of the total lapse in 2007-09.
UW System offered a statement last week decrying the cuts:
We do not know how we can take these cuts without negatively affecting the education of our students and the expectations of their families for a quality experience. These disproportionately large cuts will hurt every UW institutions ability to spur regional economic growth and to help all of Wisconsin emerge from a persistent economic recession.
System also said they will appeal to legislators in the coming days to readjust the lapse to mitigate the damage to the university. The lapse must be approved by the Legislature's Joint Finance Committee before it can be implemented, so an adjustment may be possible. PROFS has been working with campus stakeholders on this issue and will continue to talk with legislators and their staff to encourage them to modify the current distribution of cuts.