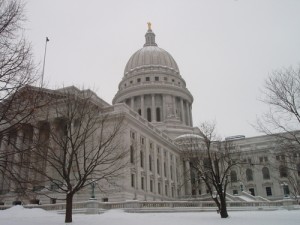 The 2013-14 legislative session began today when legislators were sworn in at 2 pm. Republicans regained control of the Senate (18-15) and enjoy the same majority in the Assembly as they did last session (60-39). A tentative floorperiod schedule was released last week, and the official calendar was adopted by joint resolution today. The Assembly is also scheduled to be in session Thursday.
Committee assignments were announced last month — a list of Assembly committees is here and the Senate list is here. A full list of legislative leadership is here.
Representative Stephen Nass (R-Whitewater) will continue to chair the Assembly Committee on Colleges and Universities and Representative Dave Murphy (R-Greenville) will serve as vice-chair. Republicans Joel Kleefisch, Oconomowoc; Dean Knudson, Hudson;  Scott Krug, Nekoosa; Duey Stroebel, Saukville; and Tom Weatherston, Caledonia will serve on the committee along with  Democrats Janet Bewley, Ashland;  Jill Billings, La Crosse; Dianne Hesselbein, Middleton; and Dana Wachs, Eau Claire.
Senate Sheila Harsdorf (R-River Falls) will chair the Senate Committee on Universities and Technical Colleges. Republicans Dale Schultz of Richland Center and Rick Gudex of Oshkosh will serve on the committee with Democrats Jennifer Schilling of La Crosse and Jon Erpenbach of Middleton.
The Milwaukee Journal Sentinel recently interviewed Republican leadership in the Assembly to discuss their legislative priorities. Video of that interview is here.