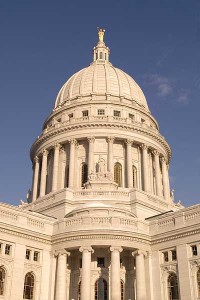 Later this week, ballot results will be announced for the 2010 Joint Legislative Council Special Committees. Sixteen committees have been recommended and will be reviewed by the full Legislative Council. Special committees are requested by members of the Legislature and chaired by legislators. They are comprised of legislators and citizens, and often include UW-Madison faculty who can provide expertise on the study topic.
The following special committees have been recommended:
Criminal Justice Funding and Strategies — to study funding of the criminal justice system
Review of Emergency Detention and Admission of Minors Under Chapter 51 — to study the inconsistent statutory approaches to emergency detention between Milwaukee County and other counties in the state
Health Care Access — to study possible solutions to the shortage of health care providers, particularly in rural areas and inner-cities
Health Care Reform Implementation — to study and make recommendations on possible changes to state statutes in response to recently-enacted federal health care reform legislation
Review of Higher Education Financial Aid Programs — to review current laws relating to financial aid for higher education in order to improve access and retain graduates in the state
Infant Mortality — to study infant mortality and address the disparities in infant mortality rates in different regions in Wisconsin
Strategic Job Creation — to study and make recommendations to promote strategic development of high-wage jobs
Judicial Discipline and Recusal — to review the current method by which justices and judges are disciplined and to review the current system of judicial recusal
Local Service Consolidation — to study whether current law should be amended to facilitate consolidation of local services
Spousal Maintenance Awards in Divorce Proceedings — to study maintenance awards in divorce proceedings
Managed Forest Land Program — to review the Managed Forest Land Program in order to ensure the long-term management and sustainability of private forest lands
Nanotechnology — to examine health and environmental concerns relating to nanomaterials
Single-Use Plastics — to evaluate the economic and environmental costs of single-use plastics
Public Assistance Program Integrity — to study current laws relating to fraud prevention in public assistance programs
Review of Records Access of Circuit Court Documents — to review how and by whom circuit court civil and criminal records may be accessed
Strengthening Wisconsin Families — to study ways in which research relating to early brain development can be used to develop best practices for public programs
Please contact the PROFS office (263-9273) if you are interested in serving on a study committee.