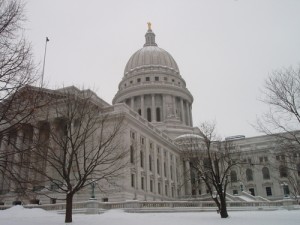 Retiring senators Tim Cullen (D-Janesville) and Dale Schultz (R-Richland Center) held a public hearing on legislative redistricting yesterday, filling a hearing room where more than 75 people testified or registered in support of Assembly Bill 185. The bill would put legislative redistricting in the hands of non-partisan experts but still allow legislative oversight.
Political science professors Ken Mayer and David Canon spoke at the hearing, testifying that the current process is costly and overtly political. Instead, the two experts favor a model used by neighboring Iowa. The Iowa system requires district boundaries to be drawn logically, following municipality borders where possible.
In Wisconsin, the political party in power is responsible for redrawing legislative districts every ten years, resulting in districts that help preserve that party's majority.
Canon, referring to the most recent maps drawn in 2012, said that practice eliminates competitive legislative races:
"The maps, in fact, were carefully drawn to maximize the advantage for the Republican Party. This is a bipartisan issue, because if Democrats were in control they would have done the same thing."
Mayer said current practice is "divisive, polarizing, expensive, litigious and undermines basic notions of representation."
PROFS has been working on the issue of legislative redistricting for some time and arranged a meeting between UW-Madison faculty and Senators Cullen and Schultz last year. PROFS is registered in favor AB 185 and its companion SB 163.