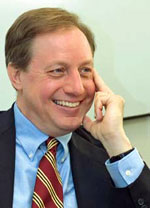 Madison Mayor Dave Cieslewicz recently blogged about the importance of UW-Madison to the entire state. Prompted by the attacks on the city by State Representative Steve Nass (R-Whitewater), the mayor questioned why it seems to be good politics for some legislators to pick on Madison. Perhaps it's because the city has already achieved some of the very goals championed by UW System and noted on this blog.
Cieslewicz writes that "Madison has hitched its wagon to the new economy. Thanks mostly to the University of Wisconsin, just over half of our adult population has a college degree, compared to a about a quarter of the state as a whole." Our highly-educated workforce attracts and creates industry that help us maintain an enviable unemployment rate, even in recession.
He goes on to write that while the city owes a debt of gratitude to the state leaders who moved the capital to Madison and created the university more than 150 years ago, today's legislative leaders should stop the gratuitous attacks on the city and university:
"Attacking the UW, cutting its budget and micromanaging its work, is harming the single most important public institution in our state. . . . We need to put the Wisconsin Idea on steroids and demonstrate to legislators and their constituents that what happens in Madison has direct and tangible benefits for them in their own communities. If we can't do that, then the attacks will continue and our economy will be weakened from within."
Thanks, Mayor Dave, for championing our fine institution. We'll continue to work hard to be an invaluable asset to the entire state, AND the city of Madison.