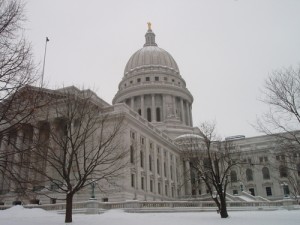 Governor Scott Walker will deliver his State of the State address at 7 pm Tuesday evening in the Assembly Chambers of the Capitol. The speech is usually an outline for the governor's legislative and budget priorities for the coming year, but Walker might also hint at a possible run for president. Livestream coverage of the address will be available on public radio and television.
Walker will present his 2015-17 budget proposal to the Legislature on Tuesday, February 3. The state is facing a $2.2 billion shortfall if agency requests are fully funded. UW System has requested $95.2 million for the several items:
$30 million for a competitive grant program targeting six areas critical to the state's economy: agriculture, finance, insurance/real estate, healthcare, manufacturing, transportation, and water research.
$27.3 to cover a pay plan funding gap. Historically, UW System funds about 30 percent of a pay plan increase with tuition dollars. The two-year tuition freeze has led to a funding gap, with many campuses holding insufficient reserves to cover the pay plan.
$24.4 million to increase the number of college graduates statewide, with much of the funding directed to the Course Options program, a program that allows high school students to earn college credits. Additional funding would expand the Flex Option degree program, improve the credit transfer system, and assist working and first-generation college students.
$22.5 million in one-time funding to assist with the creation of STEM (science, technology, engineering, and math) jobs. The money will be available to individual campuses through a competitive grant process.
PROFS has already met with the state's budget director to advocate for the budget request and is working with other university stakeholders to secure the best possible outcome for UW-Madison.