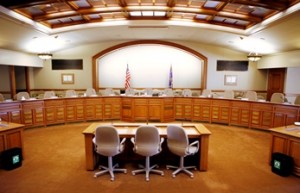 The Joint Finance Committee began budget briefings yesterday and continue today with discussions on the Department of Natural Resources, the Department of Workforce Development, the University of Wisconsin System, the Department of Public Instruction, and the Department of Health Services.
Members of the committee will hear from agency representatives during the briefing. There will be no public testimony. UW System President Ray Cross is expected to address the committee. Livestream coverage of the hearing is available on WisconsinEye.
Yesterday, the committee heard an overview of the budget from former Department of Administration Secretary Mike Huebsch and discussed the Department of Corrections, the Supreme Court and the Department of Justice budgets.
The committee will conclude budget briefings Wednesday when they hear from the Department of Transportation, the Department of Revenue, the Department of Children and Families, the Department of Financial Institutions, the Department of Safety and Professional Services, the Wisconsin Economic Development Corporation, and the Wisconsin Housing and Economic Development Authority.