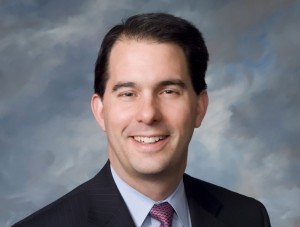 Governor Scott Walker took office yesterday and wasted little time calling a special session of the Legislature to address job creation. He also authorized Attorney General J.B. Van Hollen to join other state's in a lawsuit challenging federal health care reform.
Walker's inaugural address returned to several top campaign themes — job creation, less government, and a promise to not raise taxes.
Using strong language, Walker called for smaller government and a return to frugality, stating that under his administration "state government will do only what is necessary — no more, no less."
Walker's intention to shrink state government and lessen the clout of state workers is noted in today's New York Times. The Times writes that several newly-elected governors and legislative leaders plan to introduce legislation that would severely limit both public and private employee unions and notes that Walker has threatened to take away the right of public workers to form unions and bargain contracts.
Last week, Walker announced his cabinet. His team includes those with private sector experience and several current and former legislators.
State Representative Mike Huebsch (R-West Salem) will serve as Secretary of Administration. Huebsch was elected to the Assembly in 1994 and was Speaker from 2007-08.
Walker plans to dismantle the Department of Commerce and recreate it as a public-private enterprise. The department will be led by former Green Bay mayor Paul Jardin, who also served as president of the Green Bay Chamber of Commerce. Under Walker's proposal, current Commerce employees will have to reapply for their jobs in the new agency.
Heritage Foundation senior fellow Dennis Smith will lead the Department of Health Services. Smith drew attention last year after he co-wrote an article suggesting that states consider dropping out of Medicare and instead use their own funds to care for some while others would receive care from the federal government. Smith also worked for the U.S. Department of Health and Human Services under Tommy Thompson.
Two former secretaries will serve in their former posts — Rick Chandler in the Department of Revenue and Ben Brancel in the Department of Agriculture, Trade and Consumer Protection.
Former State Representative Cathy Stepp will serve as Secretary of the Department of Natural Resources. Stepp has been an outspoken critic of the department and served on the Natural Resources Board. She has already said that she plans to review environmental rules and regulations.
The remainder of Walker's Cabinet includes Gary Hamblin, Corrections; Eloise Anderson; Children and Families; Manny Perez, Workforce Development; Peter Bildsten, Financial Institutions; Stephanie Klett, Tourism; Dave Ross, Regulation and Licensing; and Wyman Wynston, Housing and Economic Development.
Walker also announced key staffers in his gubernatorial office. Eric Schutt will serve as Deputy Chief of Staff. Schutt once coordinated alumni advocacy efforts for the Wisconsin Alumni Association. Brian Hagedorn, a graduate of the University of Wisconsin Law School, will serve as the governor's chief legal counsel. Walker had previously named Keith Gilkes, a graduate of UW-Madison, as chief of staff.