The cover story in a recent Isthmus was this: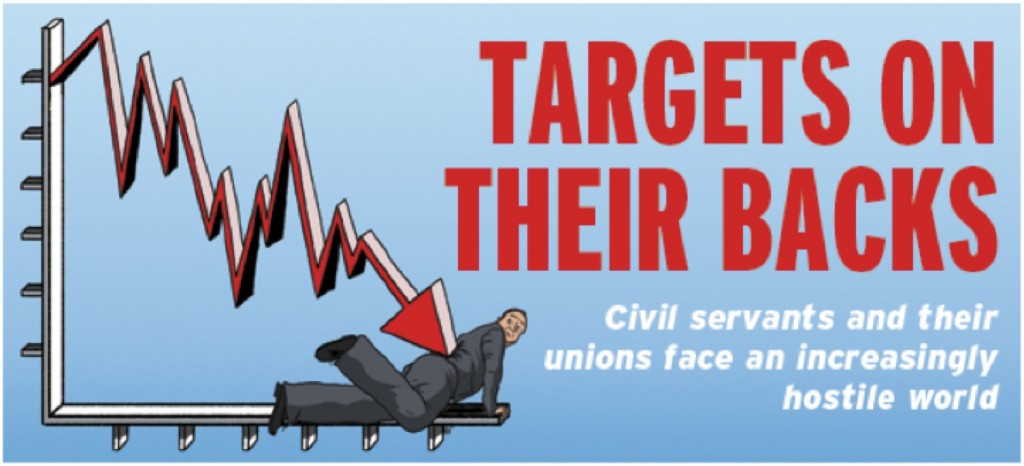 UW-Madison faculty are acutely aware of where we stand, judging from the stream of emails PROFS is getting. A tradition of faculty complacency is vanishing very quickly: There is genuine anger among many about the current threats of double-digit pay cuts and general budget cuts. As we start to look at what we can do to fight, it's worth considering the reality around us, instead of the overheated and sometimes invented rhetoric we hear so much of.
Virtually all of us have chosen this career path because we believe deeply that education betters society. Almost all of us could earn more, often vastly more, in the private sector, but we have decided to serve the public by teaching, outreach and research that supports Wisconsin. Many of us could make much more by moving to other universities. And while most UW-Madison faculty are comfortably in the middle class and some are above, certainly, a surprising number are falling below that. (And things are often far worse for faculty at other system campuses.)
All of this has been exemplified in correspondence and discussions that we've been having with faculty members on campus. Below is one story sent to us by a colleague. If you have a story about the budget's impact on you or your department or the state, please pass it on.
One colleague's story
I write this wearing many hats, among them being those of a Wisconsin taxpayer, a property owner, a concerned citizen, an assistant professor at the University of Wisconsin-Madison and as such, a State of Wisconsin employee. I love my work here, my colleagues, and my students. To come here in 2006, I chose to take a 22-percent pay cut—from my salary as a public school teacher. In order to follow me, my spouse took a 25-percent pay cut from his well-paid position in the private sector to work at the UW. We made these decisions because obtaining a tenure-track faculty position at the University of Wisconsin-Madison was to a large extent, a dream come true for me, and we adjusted to our new economic realities. We sold a car, downsized our household, and adjusted our consumer behaviors significantly.
However, after four and one-half years here at the UW-Madison, I am dispirited. I have seen promised pay increases rescinded by the State Legislature and furloughs enacted which, while purporting to save positions, have resulted in further salary reductions. Since arriving in Madison in the fall of 2006, I have received a net $1,000 in raises, resulting in a salary that I last had in 2004 as a public school teacher. Due to the current furloughs imposed on Wisconsin state employees, I have colleagues at UW-Madison who now are paid less than their initial salary four years ago. In my department, there has been no money for merit since my arrival and there is none on the horizon.
I will not be surprised if the furlough days are increased, as I have done my own research on the looming budget deficit for the next biennium. I completely understand the thinking that furlough days can stem the tide of firings and the cutting of programs. Unfortunately, as an assistant professor of a certain age and vintage (I'm a little older than the typical untenured professor), the prospect of spending two more years with even more furlough days or at the very least, the same number of them, combined with continued and expanded salary cuts at multiple levels (while my Madison property taxes rise), has me seriously re-thinking my decision to remain at the University and in the State of Wisconsin. My work has garnered the attention of multiple peer institutions, and I am finding myself courted by several of them; the bottom line to staying or leaving may in all likelihood rest on whether I can realistically afford to continue living and working here, particularly as I plan for retirement, albeit a long way off. My spouse works for the University and is responsible for the bringing in of millions of dollars of year to the UW in the form of grants and development … and is rewarded by further pay cuts. In his former position in the private sector, he received bonuses and public recognition for his superb professional contributions, which he now brings to the UW. I have colleagues on faculty who cannot afford to pay their mortgages, pay for necessary repairs to their homes, pay their own student loans, meet their bills, or send their own children to college. We deal with the situation through dark humor tinged with a very real bit of fear, and several of us discuss taking on summer jobs, much like I did when I was teaching public school many years ago.
If I do choose to stay, there exists a very real possibility that by the time I come up for tenure, I will have spent four years progressing toward that goal while working under unremitting furloughs and further salary cuts. It is entirely probable that when that time comes, I will be paid less than my initial 2006 salary. Whereas in no way do I wish to convey that money is my only raison d'être for my being here, this seems a perverse incentive for the necessary work to gain tenure here. I do indeed love my work; however, State rules mandate that State employees engage in no State-related work on furlough days. This injunction has been greeted by proverbial winks and nudges among UW faculty as of course we are going to continue working on furlough days (and the UW expects and demands it)—and we are therefore complicit in our own exploitation. Few outsiders to the UW realize that unless faculty members receive competitive grants or compete to teach classes, UW faculty are essentially "on furlough" during the summer as well—most of us are on nine-month contracts, getting paid only for those nine months. The reality is that I, like most of my colleagues, work summers regardless because we love what we do and are compelled to do it, tenure or not. But typically, the summer work of a scholar/researcher rarely contributes in real dollars and cents toward the paying of my household expenses.
It is not in my nature to jump ship, but I am very much afraid that if things continue along these lines both at the UW and in the State of Wisconsin, coupled with the political vitriol and invective being heaped upon my colleagues and me by the incoming regime, I will not be able to afford to stay here. I find the strategic practice of obtaining an outside offer in order to gain higher pay via a retention package, repugnant, but I am more and more aware that I may have to play that game in order to afford living here in Wisconsin. I have never had better colleagues or the freedom to do creatively and intellectually what I want. I truly hope that my spouse and I will be able to hang on and stay. Time will tell.