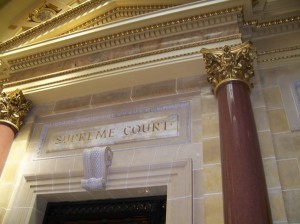 The Wisconsin Supreme Court today overturned Judge Maryann Sumi's decision to invalidate collective bargaining legislation, saying that she overstepped her authority and should not have stopped the publication and implementation of the legislation.
Last month, Judge Sumi ruled that passage of the legislation violated the state's open meetings law, and she issued a permanent injunction against the law. The Supreme Court's decision allows the legislature to approve the 2011-13 biennial budget without adding a collective bargaining amendment. Republican leaders said yesterday they would introduce such an amendment if necessary.
The court, in a 4-3 decision, ruled that Sumi "has usurped the legislative power which the Wisconsin Constitution grants exclusively to the legislature" that the "legislature shall provide by law for the speedy publication of all laws."
Chief Justice Shirley Abrahamson, writing in dissent, noted that the ruling "is long on rhetoric and long on story-telling that appears to have a partisan slant," and Justice Patrick Crooks said that "(t)hose who would rush to judgment on these matters are essentially taking the position that getting this opinion out is more important that doing it right and getting it right. It is rather astonishing that the court would choose to decide such an unusual and complex case without the benefit of a complete record."
The court also found that the legislature did not violate a constitutional provision requiring the doors of each house to remain open except when public welfare requires secrecy. The majority said that "(t)here is no constitutional requirement that the Legislature provide access to as many members of the public as wish to attend meetings of the Legislature or meetings of legislative committees."
It is not yet known when increased payroll deductions for pensions and health care will go into effect. Governor Scott Walker has said he will not seek retroactive deductions. Representative Robin Vos (R-Caledonia) said today that the state will cover the approximate $30 million in expenses resulting from not collecting the increased payments since March.
Republicans had planned to introduce an amendment to the budget bill if the Supreme Court did not rule in their favor today. That amendment preserved the changes to collective bargaining passed in the budget repair bill, but also exempted transit workers. The exemption of transit workers was necessary to avoid losing $48 million in federal transit funds. The amendment also included $1 million and three additional positions for the Wisconsin Employment Relations Commission to assist with annual recertification required for public employee unions. It is not known if an amendment with these two changes will be introduced during budget deliberations this week.