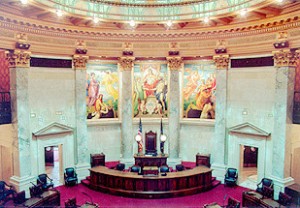 The Wisconsin State Senate yesterday approved legislation that would allow citizens of Wisconsin to carry concealed firearms. The proposal passed by a margin of 25-8, with 6 Democrats joining all Republicans in support of the bill. The Assembly is expected to approve the measure in the coming days, and Governor Scott Walker has indicated his support of the bill. PROFS lobbied against this bill.
Under the proposal, individuals 21 and older would be allowed to receive a permit for concealed carry after completing training and submitting to a background check to show they were not felons, or otherwise prohibited from carrying a gun. Permits will cost $50 and will be valid for 5 years, while permit renewals will cost $25. Revenue from permits is intended to cover the estimated $3 million cost over the next two years related to licensing.
The legislation includes limits on where guns may be allowed, including law enforcement offices, state mental health facilities, courthouses, and airports beyond security checkpoints. Private and public facilities could post signs forbidding guns inside buildings, but guns could not be banned from public-owned grounds, including UW-Madison grounds. The bill also allows people to carry uncased, loaded guns in cars, something that is currently illegal. Electric weapons, such as tasers, will also be permitted.