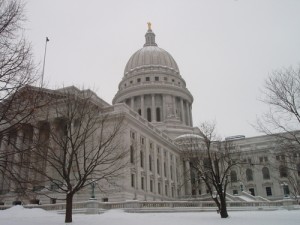 Fewer than six months remain in the 2011-12 legislative session, and PROFS continues to monitor and lobby on legislation that affects UW-Madison and its faculty. PROFS has taken positions on more than a dozen bill this session, and several may be acted upon before the floorperiod ends next month:
The Special Task Force on UW Restructuring and Operational Flexibilties continues to meet monthly. PROFS has met with several members of the task force to discuss issues important to UW-Madison faculty and will continue to do so in the coming months. A report from the task force is expected later this summer.
Recall elections also loom large this spring. Governor Scott Walker and four Republican state senators — Scott Fitzgerald of Juneau, Pam Galloway of Wausau, Terry Moulton of Chippewa Falls, and Van Wanggaard of Racine — face recalls later this year. Dates for the recalls have not been set, but the review of recall petitions is expected to be contentious.