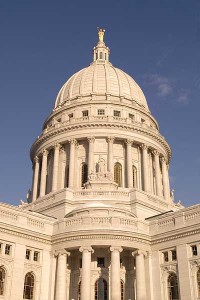 Like all advocacy organizations in the state, PROFS is required to register its lobbying efforts with the Government Accountability Board. This session, PROFS has registered a position on four bills:
AB 185/SB 163 – Legislative Redistricting These bills would shift the work of legislative redistricting from the Legislature to the non-partisan Legislative Reference Bureau. PROFS is registered in support of this bill.
Last week, Senators Tim Cullen (D-Janesville) and Dale Schultz (R-Richland Center) called for redistricting reform in the state and asked Republican leadership to schedule public hearings on the bills, which were introduced in May. Video from the Cullen/Schultz press conference is here.
Supporters say passage of the bills would eliminate gerrymandered "safe" districts and lessen legislative polarization. Both of the state's largest newspapers — the Milwaukee Journal Sentinel and Wisconsin State Journal — used their Sunday editorial pages to offer support of the legislation.
AB 224 – Stem Cell Research This bill makes the use of fetal tissue in scientific research illegal. Passage of the bill would criminalize the use of scientific material previously derived from fetal tissue, which includes stem cell lines that have been in use for more than 30 years. Scientific research on campus would be severely limited, potentially delaying life-saving medical discoveries. PROFS is registered against this bill.
A hearing on AB 224 was scheduled for September 12, but later cancelled. It is unclear if the hearing will be rescheduled.
SB 157 – Student Representation on the Board of Regents This bill would require the governor to select a student regent who had been recommended by his or her student government. Current law allows the governor to consider student government recommendations, but the governor may select another candidate. PROFS is registered in support of this bill.
A public hearing on the bill was held last month.