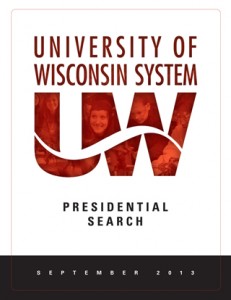 University of Wisconsin System launched its presidential search website yesterday. The site includes prospectus about the search process and position.
A search and screen committee comprised of regents, former regents, faculty, staff, and students was named last month. PROFS Steering Committee member Susan Babcock is the sole representative from UW-Madison.
Nominations for the position are already being accepted, and UW System hopes to announce a new president in early 2014. The search firm of Storbeck/Pimentel and Associates is assisting with the search. Nominations may be submitted to uwpresident@storbeckpimentel.com.