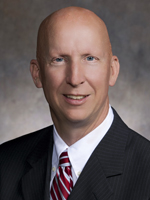 State Representative Duey Stroebel (R-Cedarburg), right, has introduced two bills that would change Wisconsin Retirement System benefits:
Assembly Bill 470 would increase the minimum retirement age by two years. If passed, it would apply to workers 40 and younger.
Assembly Bill 471 would calculate benefits based on the five highest earnings periods, a change from the current three year formula.
The bills were referred to the Joint Survey Committee on Retirement Systems, but a hearing has not yet been scheduled. Stroebel co-chairs the committee with State Senator Dale Schultz (R-Richland Center). State Representative Terese Berceau (D-Madison) is also a member of the committee.
Assembly Speaker Robin Vos (R-Rochester) told the Wisconsin State Journal that the bill is "not going to happen this session."