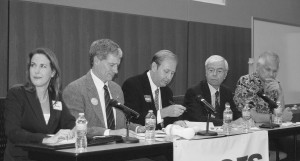 Wisconsin's fall primary election will be held Tuesday, September 14. There are several elections of local interest, including the Democratic contest in the 77th Assembly District. PROFS hosted a forum of candidates last month, giving faculty the opportunity to learn more about each candidate. Dianne Hesselbein, Brett Hulsey, John Imes, Fred Wade and Doug Zwank will be on the ballot on Tuesday.
Voters also have the opportunity to choose between Mark Neumann and Scott Walker in the Republican gubernatorial primary and Tom Barrett and Tim John in the Democratic primary.
The race for Lieutenant Governor has attracted many candidates. Democratic contenders include Spencer Coggs, Tom Nelson, Henry Sanders and James Schneider, while  Brett Davis, Rebecca Kleefisch, Robert Gerald Lorge and Dave Ross make up the Republican field. Coggs, Nelson and Davis currently serve in the Legislature.
Polls will be open from 7 am to 8 pm on Tuesday, September 14. Information about polling locations and voter registration can be found here.