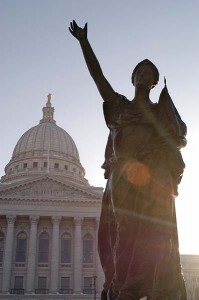 UW System Tenure Policy Task Force
PROFS continues to actively follow the work of the UW System Tenure Policy Task Force. The Board of Regents meets Thursday, March 10 and will discuss recommendations of the Regent Education Committee. Board action on UW-Madison's draft policy is not expected until April.
Wisconsin Legislature
Republican leadership has said the Assembly has adjourned for the session, but the Senate plans to meet again March 15. Both houses could reconvene in special or extraordinary sessions. PROFS is monitoring and lobbying on several items:
PROFS Forum on Self-insurance for State Employees
The Group Insurance Board met last month and voted to issue a request for proposals on self-insurance for state employees. PROFS hosted a forum featuring three insurance experts the following week. Video here.