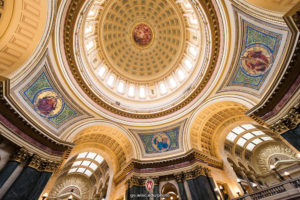 Assembly Bill 299, dubbed the Campus Free Speech Act, passed the Assembly Wednesday, June 21 on a 61-36 vote. Republican Bob Gannon of West Bend joined the Democrats in opposing the bill. A statement of PROFS' opposition to the bill is here.
Representative Jesse Kremer (R-Kewaskum), the bill's main author, maintains the legislation is necessary to ensure all voices are heard on campus, citing incidents at Middlebury College and the University of California-Berkeley as evidence that free speech is stifled on college campuses.
PROFS lobbied against the bill, noting that in 2010 the University of Wisconsin Faculty Senate adopted a policy (Faculty Document 2186) that protects speech on campus. In 2015, the University of Wisconsin System Board of Regents adopted a resolution affirming academic freedom, including free speech, on all UW campuses.
Under the amended bill (below), the Board of Regents would be required to adopt a policy that would apply to all UW System institutions and supersede any existing Regent or campus policies. The legislation also requires mandatory punishments for students violators and employee and new student training on free speech annually.
The bill now moves to the State Senate.