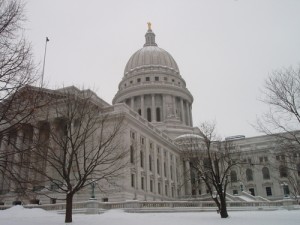 2019-21 Biennial Budget
Governor Tony Evers introduced his state budget last week. The governor's higher education budget includes increases of $44.7 million in FY20 and $66 million in FY21 and $40.4 million for a 2% pay plan for UW System employees, including UW-Madison faculty.
Additional details:
$45 million for capacity building initiatives
$5 million for UW Colleges student support services
2-year tuition freeze, including $50.4 million to fund the freeze
$10 million for a nurse educators program
$17.4 million for Wisconsin Grants, a need-based grant program for Wisconsin students
$3.5 million and 20 FTE for UW Extension agriculture representatives
$500,000 for environmental education at UW-Stevens Point
$18 million for a general increase to the Wisconsin Technical College System
Resident tuition for undocumented Wisconsin residents
The state budget process is a months-long process that stretches into summer. The Joint Finance Committee and both houses of the state legislature must approve the plan before it is returned to the governor for his vetoes and final approval. PROFS has already begun meeting with members of the governor's staff and key legislators to discuss items important to UW-Madison faculty.
State Budget Forum
PROFS, along with WISCAPE and the Wisconsin Alumni Association, is planning a campus forum on the state budget on April 2. More information coming soon.
Mark Cook Bill
Assembly Bill 38 and Senate Bill 42, dubbed the "Mark Cook bills," were introduced last month. This bipartisan bill would streamline and strengthen the law governing contracts between the university and a private company or nonprofit group in which a faculty member has a financial interest. The PROFS Entrepreneurial Work Group developed this draft legislation which honors the late faculty member and entrepreneur who chaired the work group. Similar legislation was introduced last session and passed the Assembly but was not scheduled for a Senate vote.