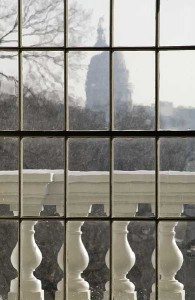 While the entire country experienced the overwhelming mood for change after last Tuesday's elections, Wisconsin was the only state in the nation to turn over the governor's office, a United States Senate seat, and both houses of the Legislature.
The first priority of the incoming legislature will be to tackle the 2011-13 state budget, and Wisconsin faces a record $2.7 billion deficit. Members of the Legislature have been meeting within their parties to choose floor leaders, committee chairs, and members of the Joint Finance Committee, a 16-member committee that will dissect the governor's budget.
Last year, the finance committee was chaired by two Dane County Democrats — Representative Mark Pocan and Senator Mark Miller. Republicans will hold 12 seats and Democrats will hold 4. It is widely believed that Senator Alberta Darling of River Hills and Representative Robin Vos of Burlington will be named co-chairs this week. Vos graduated from UW-Whitewater and served as a student on the Board of Regents from 1989 to 1991.
Republicans are likely to elect Representative Jeff Fitzgerald of Beaver Dam Speaker of the House and have already selected Senator Scott Fitzgerald of Juneau to serve as Majority Leader. Both Democratic legislative leaders — Senator Russ Decker of Weston and Representative Mike Sheridan of Janesville were defeated last week.
The legislative committees on higher education will also change. In the Senate, the ranking Republican on the Higher Education Committee is Senator Sheila Harsdorf of River Falls. She has chaired the committee in the past.
In the Assembly, Representative Kim Hixson (D-Whitewater) chaired the Colleges and Universities Committee. Hixson, an associate professor on leave from UW-Whitewater, lost his bid for re-election. Representative Steve Nass of Palmyra is the ranking Republican, and he, too, has chaired the committee in the past.
On Friday, Governor-elect Walker announced that Michael Grebe, president and CEO of the Bradley Foundation in Milwaukee, will lead his transition team. Grebe, former chairman of Foley & Lardner, was appointed to the Board of Regents by Governor Tommy Thompson in 1991 and served as president from 1994 to 1997.
A full list of the 2011 Legislature is here.