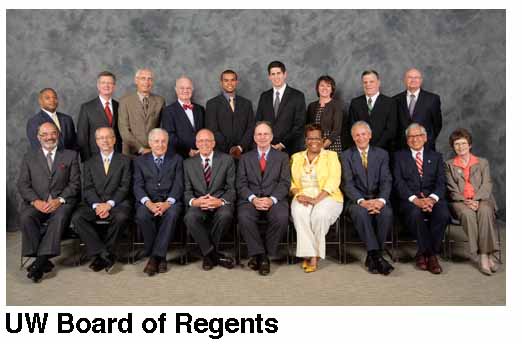 On Thursday, February 4, the UW Board of Regents heard from System President  Kevin Reilly about his plans for the next elements of the Growth Agenda that will be incorporated into the UW's 2011-2013 budget proposal. While he didn't get into specifics, President Reilly said that System's planning will be driven by two "core goals":
1) More graduates: The ultimate goal is to produce more college graduates in the state, and to do this by increasing undergraduate enrollment throughout system, including at Madison. Reilly has met with the chancellors and will soon be meeting with faculty and staff about his plan. The proposal will come up at the April board meeting.
2) More jobs: The goal here is to create more jobs in the state, and especially the kind that go to well-educated individuals. The regents have a Research to Jobs Group that will play an important role in this. The group will have something on the order of 20 recommendations.
In addition, a "Foundational Activity" will be a Competitive UW Work Force. A new compensation commission will be created, with Regent Michael Spector as one of the Co-Chairs. The other Co-Chair will be a retired executive from Kimberly Clark. The commission will be empowered to review the peer groups used to compare our pay with other comparable institutions. It will look for areas where faculty and staff are seriously behind the competition, and areas where salaries might actually be competitive.
The timeline is as follows: There will be no regents meeting in March. The board will take up the discussion of increasing the number of graduates in April. Following a strategic financing discussion in May, the board will take up next year's operating budget (not the next state budget) in June. In August, the board will approve the 2011-13 proposed operating budget. The pay plan will be approved at a later meeting.
PROFS will continue to monitor these meetings and any related developments, and advocate for the best possible outcomes for UW-Madison generally and the faculty in particular.