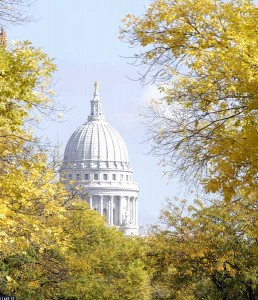 PROFS will host a public forum of candidates in race for the 77th Assembly District on Wednesday, October 20 at 7 pm.
The event will be held in the Wisconsin Idea Room, located on the first floor of the Education building. Political Science professor Ken Mayer will moderate.
The forum, cosponsored by the Associated Students of Madison and The Daily Cardinal, will feature Democrat Brett Hulsey, Green Party candidate Ben Manski, Constitution Party candidate David Olson, and Republican Dave Redick. PROFS hosted a forum of the Democratic primary contenders in August.
The 77th Assembly District includes much of campus, the west side of Madison, and parts of Middleton. A map of the district is here.
Audience members will be able to contribute questions at the forum, but we encourage you to leave questions in the comments section below.